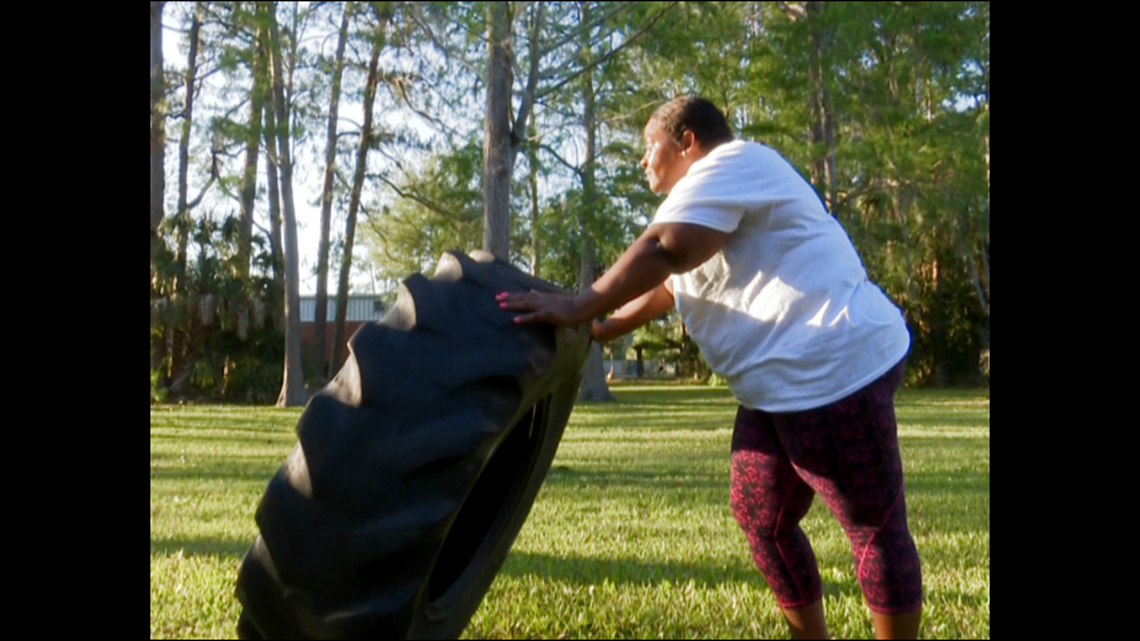 JACKSONVILLE, Fla. – Some people know how to make an impression. Once you meet them you'll never forget that encounter. That's the type of over the top personality Henrietta Stewart has. She exudes confidence and owns what she calls her "big girl magic" but for decades she's been fighting a personal battle that many people may be able to relate to.
While holding an old photo in hand Stewart opened up about her past, "to this day I remember this birthday I remember this cake and the look on my face tells a story of I'm missing something and I'm turning to the cake for that. Using food to fill voids. This was a time I was turning eight and to this day I remember this cake. I swear I do. It's supposed to be shaped in the number eight. My mother was such a hard working woman. She was a cafeteria cook, a nursing assistant at the nursing home and she also was pressing hair up in the kitchen honey. So she was always working. Once I started experimenting and trying other foods it was like why do I need people? Food was there for me. I never had to ask for permission, food didn't talk back to me, food didn't talk about me. Food was good to me honey!"
That comfort in food started at age eight and ended just five years ago. Henrietta Stewart is now 47 years old.
"My health was taking a hit as well," said Stewart. "Knees hurting, breathing all hard trying to tie my shoes that's not sexy. I had to have a come to Jesus with myself. Are you going to just let this be, are you going to just crumble up and die or are you going to fix it and continue to be fabulous? I made the choice to take control of my life. It's a journey. I have my ups and downs. I would lose weight then put some weight back on but I will say lately I've been completely steady and continuing to lose weight."
Through the ups and downs one thing remains steady, her confidence. Known as 'Henny on the Rocks' she spent three seasons on a local show called The Chat. Constantly seeing herself on television kept the self-proclaimed diva motivated.
"I can't allow whatever I'm going through in life whether it's health issues, weight issues, I still have to be me," said Stewart. "I still have to exude confidence. Cause on those rough days- put on some lipstick and do your thing honey!"
At her heaviest Henny says she was more than 350 pounds. She won't get on the scale now-a-days but she knows she's lost a significant amount of weight because her energy level is up, her doctor says her health has significantly improved and she's down four pant sizes.
Friday on GMJ we'll have a personal trainer in house answering your fitness questions live on our First Coast News' facebook page.
© 2018 WTLV